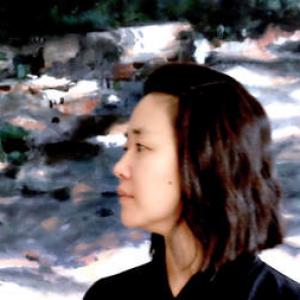 Ruthia Pak Regis
Artist member since 2019
Toronto, Ontario
Ruthia is a painter based in Toronto, with a special focus working towards abstracted landscapes. She specialized in painting and drawing at York University, also studying painting in Newcastle-Upon-Tyne, UK. For her, the process of painting and growing in spiritual disciplines is intimately intertwined; what is learned in one realm informs the other. In addition to her studio practice she produces commissioned pieces. Her work can be found in private and public collections in North America, the UK and Japan.
---
Only thing you need when you leave the house
Chapstick
Best season of the year in Toronto
Spring!
Favourite artist(s) right now
Agnes Martin and Arounna Khounnoraj
Favourite book
The Power and the Glory by Graham Greene
During my breaks, I tend to ...
snack
Why is art important to you?
Because it teaches me to let go of control, becoming aware of the flow an image or brushstroke, which inevitably leads to more interesting work than my brain could've ever planned.
Upcoming Exhibitions
2019-07-12
Nathan Phillips Square, Toronto
Toronto Outdoor Art Fair Booth A99
2020-01-10
Yorkminster Park Gallery, Toronto
TBD
Select Past Exhibitions
2019
Propeller Gallery, Toronto
Salon 13
2018
Heliconian Club, Toronto
Interior Religion
2017
Loop Gallery, Toronto
Lighten Up!
2017
Heliconian Club, Toronto
Remembering the Women of Beaver Hall
2016
Heliconian Club, Toronto
Manipulated Contemplations
2015
Wycliffe College, University of Toronto
The Unglamorous Way
Accolades
2017
Ruthia Pak Regis
Sacred Arts Trust Grant
Residencies
2017
Orvieto, Italy
Art in Orvieto
Education
2009
Wycliffe College, University of Toronto
MTS
SHARE THIS ARTIST